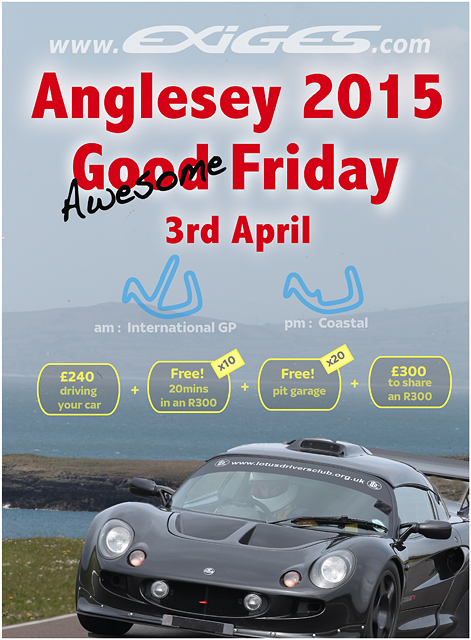 Right lads & lasses, its time to start thinking about our annual pilgrimage to Anglesey!
For those of you that are the new to the forum or have not been able to attend previous years, this really is THE trackday event of the year.
The fantastic circuit, the scenery, the social, the awesome array of Exiges, the drive through Snowdonia and of course all in the company of your favourite band of petrol heads.
If you only do one trackday in 2015, make it this one!
As you can see from the above we're sticking to the tried and tested formula of previous years. We're using BookaTrack, its on Good Friday, we're at Anglesey, we're doing the International Circuit in the morning and Coastal in the pm,…hell even the price is the same as last year! There are however a couple of great extras :
Free R300 Taster Sessions :
A few of us have had epic fun this year driving BaT's Caterham R300s. This year BaT have agreed to lay on an R300 to allow free 20min taster sessions. Yup for free, you'll get strapped into an R300 racecar and head out on circuit for some fun. There's 10 slots, and (just like booking driver-training) you can pick a slot when you book the event. If it all runs to plan we may have a couple of extra slots up for grabs. These can be secured based on your skill in convincing Mr Leroux that you may actually part with cash in the future and hire one.
Free Garages :
There's twenty free garages going too which, like the R300 sessions are on a first-come basis. Yup for fast-movers you can nab a free garage and a free go in an R300!
R300 Hire :
Exige in bits again? Want your mate/dad/son/gran to experience the exiges day? It's easy this year; book a place and add the £300 option of a part-share in an R300. You'll be sharing with one other exiger of your choosing, or just leave it to us and we'll sort out buddying people up. You can still opt to have an R300 to yourself for £750 or hire the GT3 if you're minted. For example, to part-share an R300 instead of driving your own car, the cost would be the trackday cost of £240 + the R300 part-share rental of £300 = £540 total.
Passengers Sign-On :
Once again Jonny is generously going to donate 100% of the takings from Passenger Sign-On fees (£10) to a charity of our choosing. I'm planning on speaking to Con's family about the choice of charity.
Booking :
On BaT's website you won't see the event unless your login ID is on the 'exiges' list. If you've attended the exiges day before, you're on the list. If you've not then pm me, or post on this thread (including your BaT login ID) and I'll get you added. There's 60 places, let's aim to fill them with all the regulars and some new faces too. There's no croneyism going on here, its there to allow people associated with this forum to have a go at filling the day first. Also, if you're planning on getting one of the R300-Tasters/Garages then please settle up immediately; part of us getting this benefit is of course an incentive to get you to open your wallet a couple of months early. Also see BaT's standard terms for the R300 activities, yes the excess etc will apply if you're driving an R300 for free see
here
.
That's it for now, it's time to put 3rd April in your diaries, get creative with your global travel plans (AndyD), coerce your Missus into give you a pass etc and get booking. I can't imagine the R300-Taster sessions and garages will last long so get in there, you won't regret it!
Be excited and get booking,...do it now, that's the link below on the next line!
http://www.bookatrack.com