OK then, let me try and add some more value for the less confident (like me)...
Here's the top of the TB before unplugging. As Tim says above, there's 4 plugs (2 on top, shown here), the 3rd is round the back (you can just see the blue lead below the black plug at the top) pointing diagonally down, the 4th I didn't even bother with until I'd taken the TB off, it was just too hard to get to. You also need to remove the throttle cable. Initially I pulled the throttle open which gave enough slack to unhooked the cable off the guide (as seen right at the bottom of the pic below) and remove the TB which then made it easier to get the end of the cable out of the TB, as well as remove the cable guide from (black) bracket on the TB...
So I got it off! Moving the airbox hose more fully helped...
You can (just about) see the 4 connectors here. Also note the '4 bolts' are actually 2 bolts and 2 nuts and the potential to lose particularly those nuts down the engine bay is quite significant (wish me luck getting them back on without loss)...
Now, I whipped that little IACV blighter off the bottom of the TB; thankfully somebody had previously 'Dremel-ed' a straight cut across the two 5-point star screw heads (not even 6-point torx!) to make this easier...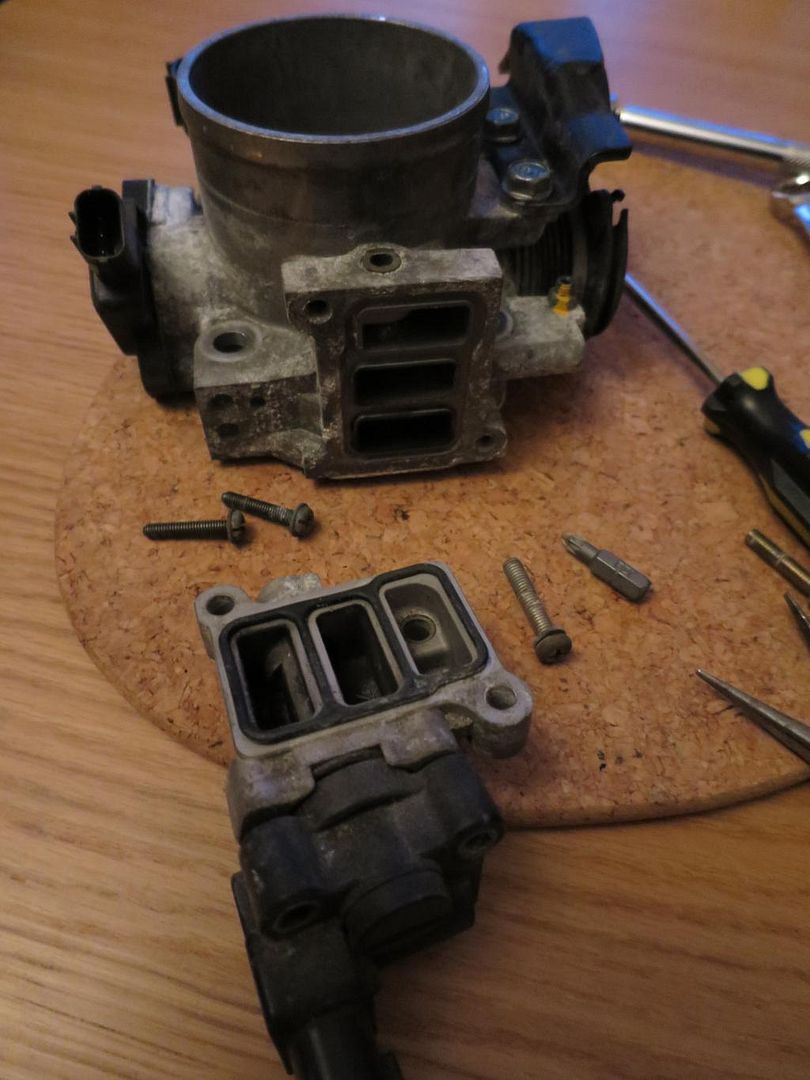 There you go, pretty yucky in there. As you can see (thankfully!) the seal held together, which is good because the local Honda parts dept were
useless
and I hadn't found the part number on the Web.
To be able to spin the shaft in the IACV take the black sensor off the end
and note
the little metal tab at the end of the shaft (that you see when removing the sensor) sits at the
top
(the open side) for when you put it back on.
Right then, time for a clean up!
I've read that petrol, WD40 and (from the ether) various other chemicals are suggestions so feel free to suggest the rights/wrongs and I'll let you know how it turns out.
Cheers, Ian